I hate to iron! Wait... I don't just hate to iron. I really, really, really hate to iron! That being said, wrinkle releaser spray is one of my favorite products. When I first found out there was such a thing, I bought a bottle to try it out. Downy Wrinkle Releaser Spray worked wonderfully and I loved it.
Then, my grocery store stopped carrying the product. I found out that Dollar General Stores carried it, so I bought it there for several months. Then they, too, discontinued the product. However, they had a store brand that seemed to work just as well. As a bonus, it was half the cost. I used that for several more months and then the unthinkable happened. They stopped carrying their own version of wrinkle releaser spray.
In a fit of frustration, I decided there had to be a recipe for making my own wrinkle releaser spray out there somewhere. This was over ten years ago, but I after an hour or so I was able to find a recipe. It was very simple. In fact, it was so simple I didn't think it would be effective. I whipped up a batch and put it in an empty spray bottle. I sprayed a very wrinkled shirt and waited. Surprisingly, the homemade product worked as well or better as the store-bought wrinkle releaser spray. The cost of making my own spray was pennies on the dollar. Given the simplicity of the recipe, it just doesn't make sense to pay the high cost for the store-brand version. Give the recipe a try and see if you agree with me.
You need three things to make your own Wrinkle Releaser Spray:
1) empty spray bottle (32 ounce) - may be used, but must be clean
2) liquid fabric softener (any brand)
3) tap water.
Step 1: Take the lid off the spray bottle;
Step 2: Uncap the liquid fabric softener and pour one capful;
Step 3: Carefully pour the liquid fabric softener into the empty spray bottle;
Step 4: Fill the spray bottle the rest of the way with tap water;
Step 5: Recap the spray bottle and shake to mix well.
Spray directly onto colorfast clothing and hang them to allow wrinkles to fall out on their own. You may hold the fabric taut and gently "brush" the wrinkles out with your free hand, as well. To test for colorfastness, find a hidden seam of the garment or an hidden spot. Apply the spray to the garment and then dab the area with a clean cotton cloth. If the color removes itself from the garment onto the cloth, you should not use the spray on the clothing. In all honesty, I have found that if I can throw the clothing in the washer, I can use the wrinkle releaser spray on it. If a garment is marked "Dry Clean Only", I do the colorfast test before spraying it with the releaser.
+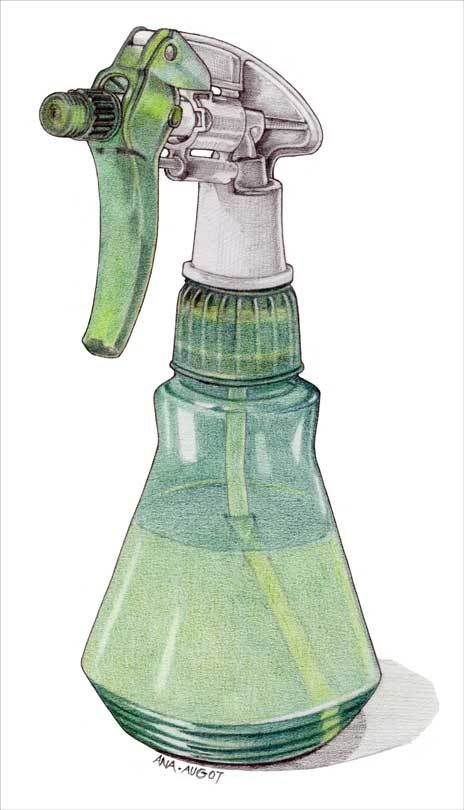 Give it a try and let me know what you think!